5%-Archives 01

땅! DDang!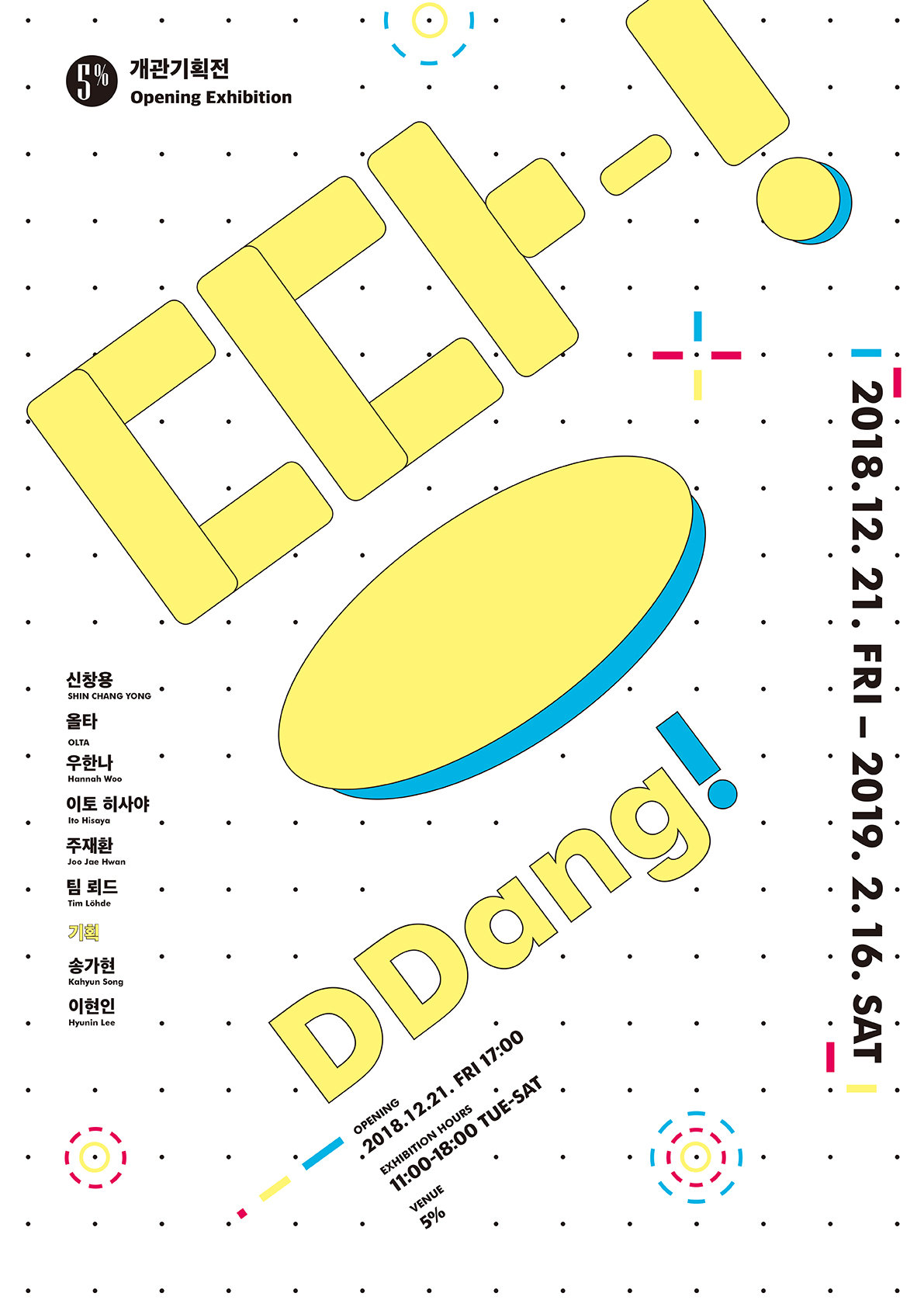 참여작가 Artists
신창용, 올타, 우한나, 이토 히사야, 주재환, 팀 뢰드
SHIN CHANG YONG, OLTA, Hannah Woo,
Hisaya Ito, Joo Jae Hwan, Tim Löhde

기획 Curator
송가현, 이현인
Kahyun Song, Hyunin Lee

전시기간 Period
2018.12.21(FRI)-2019.2.16(SAT)

전시장소 Venue
서울시 용산구 우사단로 10길 90, 5%
5%, 90, Usadan-ro 10-gil, Yongsan-gu, Seoul

관람시간 Exhibition Hours
11:00-18:00 TUE-SAT

문의 Inquiry
070-4065-5080










디자인스튜디오 오퍼센트가 2018년 겨울, 한남동과 보광동을 가르는 우사단로에 작은 프로젝트 공간 5%를 마련했습니다.
공간을 여는 첫 번째 기획전시 ‹땅!›은 '경계'라는 장소적 특징에 주목한 전시입니다. 우리는 모두 같은 땅을 공유하며 살고 있지만, 동시에 문화, 종교, 인종 등 지역에 녹아 있는 오래된 차이들이 우리 사이를 가로지르며 흐릅니다. ‹땅!›은 우리가 발 딛고 서 있는 터전의 안과 밖에 대한 이해를 바탕으로 시작되는 전시입니다. 더불어 ‹땅!›은 5%의 출발을 울리는 하나의 신호탄입니다.

In the winter of 2018, the design studio Offerscent opens a moderate-size project space called 5% in Woosadan-ro which straddles between the Hannam-dong and Bokwang-dong. The first exhibition to open space DDang! focuses on the place characteristics of 'boundary'. Although we all share the same land, age-old differences in culture, religion, ethnicity, and etc. are ingrained in each region, flowing across us simultaneously.
DDang! begins with an understanding of both the inside and outside of the land where we stand. DDang! is also a signal flare of 5%'s beginning.